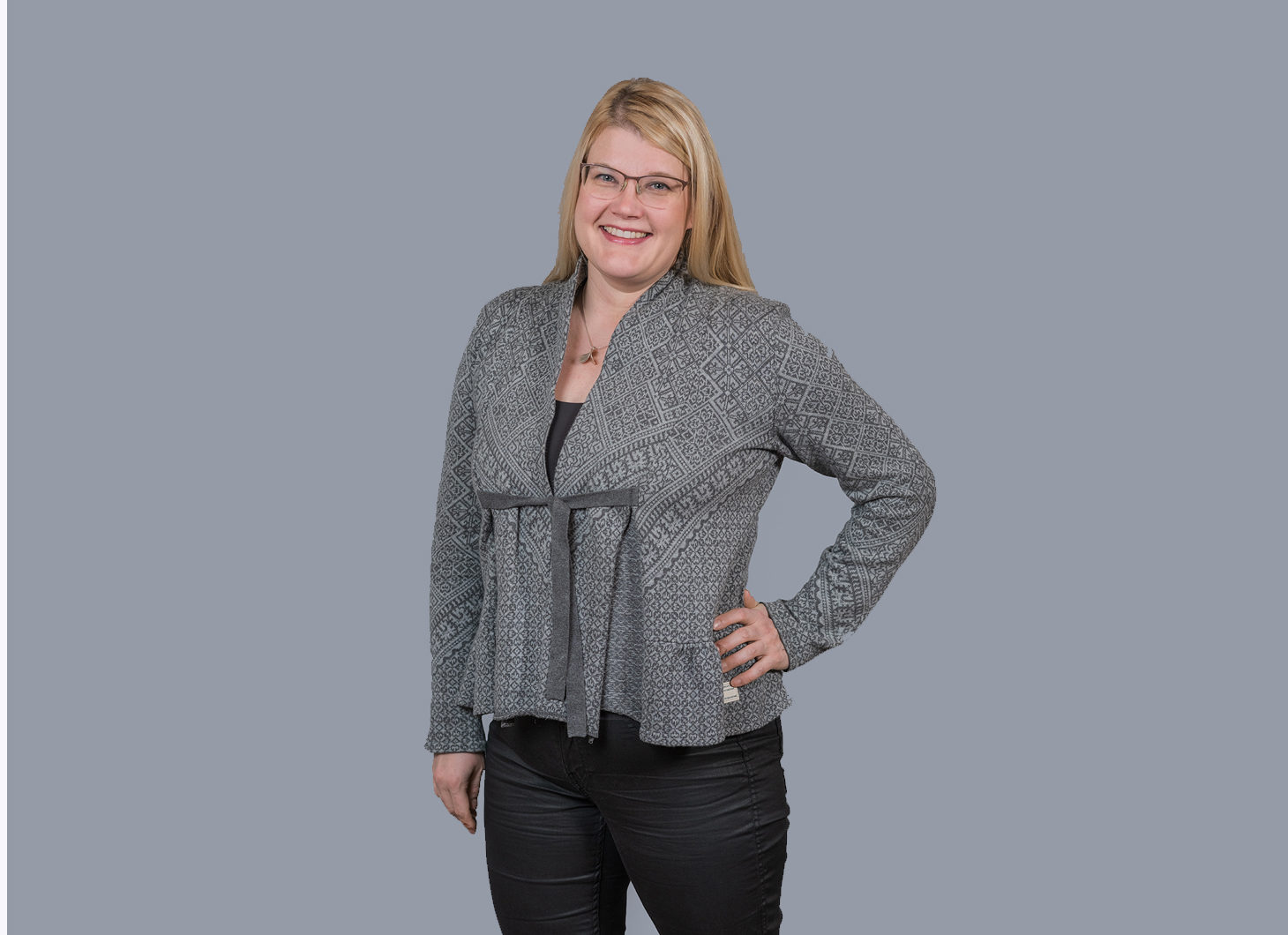 Technology Manager Päivi Sievilä can utilize her diverse experience in her new position
Career stories
+
10/29/2021
Päivi Sievilä is working as Okmetic's technology manager in the patterning area. Päivi began her career at Okmetic already in 2013 and over the years she has also worked on the sales side. Doctorate in electrophysics has found her place at Okmetic with high-performance silicon wafers.
Päivi started at Okmetic as a process engineer in the SOI product group. Even prior to that, she had done research collaboration with Okmetic related to her dissertation, including testing with wafers obtained from Okmetic. After a few years, Päivi advanced to a process development engineer, and in 2018 she took a leap into technical customer support.
– Moving to the sales team felt natural because I enjoy working with people. I also thought it would be useful to see our customers and their processes: to learn what they need and how their problems are solved, Päivi says.
– Plus I like traveling. It was a good side of working in sales that I often got on a trip.
Moving from sales back to development and manufacturing processes is a rarer career direction
When Päivi was asked back to the technology team as the technology manager for the patterning area, she didn't have to think the answer twice.
– I have a technological background and my interest is focused on technical issues. Sales is often more about working in the role of the messenger than the solver of the actual technical challenges. But even in my current job, there are many benefits of having worked in the customer interface. There is no better way to learn to understand sales than working there yourself.
– It has been really useful to be involved in different teams. Now I see entities better and am therefore able to do things differently than in the early stages of my career as an engineer.
Päivi has had great opportunities to develop herself at Okmetic
According to Päivi, there are great people and a nice atmosphere at Okmetic. The company's positive attitude to development has also contributed to why she has wanted to stay.
– Many things work as they should here and there are lots of like-minded people. I have two primary school children and family life has been made easier by flexibility. Attention is paid to people's well-being in other ways, too. I think there is a sincere effort here to make people feel good, and it shows in results.
Päivi feels that she has had the opportunity to look at things from different angles at Okmetic, and therefore she hasn't had to change jobs to find new challenges.
– Of course, it has also affected that I am genuinely interested in semiconductor technology. In each of my transitions, I have been able to take advantage of my previous experience and it has been motivating that no stage in my career has seemed wasted.
As a technology manager, Päivi is responsible for the development of patterning process integration and product portfolio, as well as for selected patterning process development projects.
– On the patterning side we are at the intersection of research and development on the one hand and the production and commercial side on the other, and there are really interesting opportunities, Päivi rejoices.
– The patterning team has a good spirit. We are mainly engineers and then we have our own production team.
To counterbalance her challenging work, Päivi enjoys gardening and outdoor activities in her free time.